nWay is a subsidiary of Animoca Brands, bringing a strong track record of developing AAA quality games, such as WWE Undefeated, Battlepalooza, and POWER RANGERS: Battle for the Grid.
The nWayPlay marketplace will open on June 17, along with the launch of their officially licensed NFT Olympic Pin Collection; digital versions of collectible and tradable pins that have been an Olympic Games tradition for over 100 years.
Sign up on nwayplay.com and follow them on Discord, Facebook, Twitter, and Instagram to be the first to know. Learn more about nWay, their upcoming marketplace, and the competitive multiplayer game they're launching in the lead up to Winter Olympics Beijing 2022, in our Partner Spotlight.
AppWorks Accelerator
We are thrilled to collaborate with AppWorks Accelerator in launching their 23rd accelerator program!
With over $200M in investible funds, AppWorks is one of the leading VC firms in the Greater Southeast Asia region, and their proven track record of success includes five IPOs among their portfolio companies (Uber, 91APP, NetPublishing, KuoBrothers and MobiX). AppWorks' dedicated team of over 80 mentors, and an extensive alumni network of over 1,300 founders and 395 startups, are an incredible resource for the entire community.
Learn more about the program and apply here today.
Epix and Enemy Metal AMA
We'll be live Thursday, June 10 at 9am PT / 12pm ET / 6 pm CET with the team over at Epix and Enemy Metal.
‍Epix is the home for premium NFT collectibles, exhibiting exclusive collections from creators behind a selection of the most prestigious brands in entertainment, show business, comic books, and exceptional digital artworks editions. Enemy Metal is just one of the amazing projects building on Epix, where you can adventure light years across the galaxy to Aureus, the planet of gold.
Have specific questions you want answered? Send them in advance here.
Watch the session live on YouTube.
Learn more about Epix in our Partner Spotlight.
Partnerships on Flow: Insights into Funding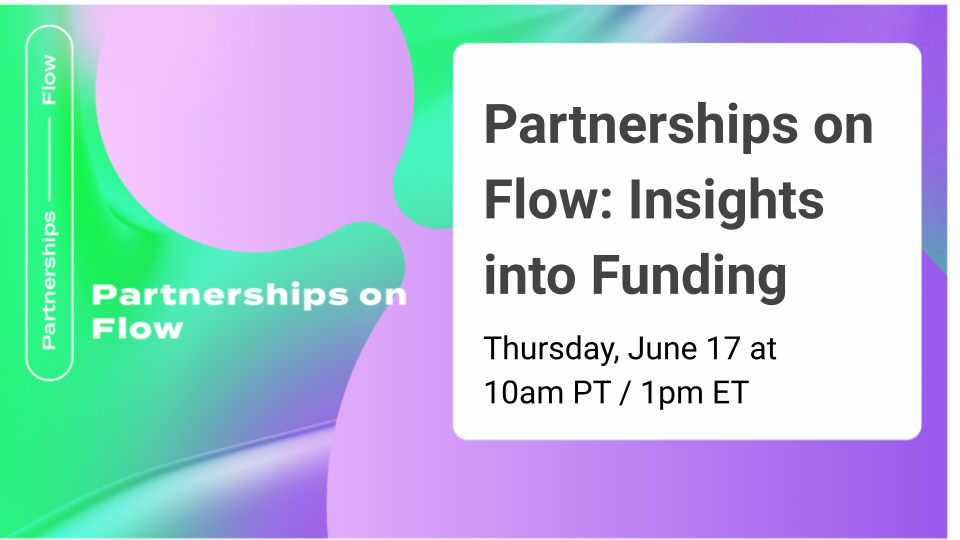 Join Dapper Labs CBO Mik Nayeem on Thursday, June 17 at 10am PT / 1pm ET / 7pm CET for Partnerships on Flow: Insights into Funding. In this session we'll be giving you tips on the process of getting funding, sharing knowledge about what investors are looking for and answering your questions live.
Register for the session in advance here.
Flow Developer Office Hours
Have questions that you would like to ask the team? Join us this Friday, June 11 at 8am PT / 11am ET / 5pm CET for our weekly developer hours.
No registration is required. To join, verify your account on the Flow Discord server and jump onto the "Dev Office Hours" category at the start of the session. You can ask your questions live or in advance here.
Consensus Foundations Playlist
We attended Consensus 2021 and joined their foundation stage to talk about Flow! In our hour-long session we shared an intro to Flow, what we've achieved this past year, how to get started building and usability design for protocols.
Watch the entire session, or pick which section you want to watch in our Consensus 2021 playlist here.